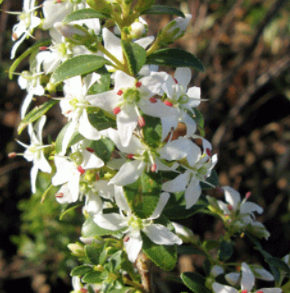 Kidney and Immune support
Agathosma crenulata - Buchu (Eng.);
Anysboegoe (Afr.); Buchu (San); long-leaf buchu (Eng.)
100% pure and natural essential oil
Undiluted
Single origin and source 
Harvest + distillation occurs March and November
Method of extraction: steam distillation
Plant part: leaf and stem

Provenance
A fynbos plant that occurs naturally only in moist sites in the mountains of the South Western Cape, South Africa
Exclusively grown for Cape Fynbos Oils at Rockhaven - Groot Winterhoek, Cederberg, Western Cape South Africa

Indication
Buchu has been traditionally used to treat inflammation, kidney and urinary tract infections, as a diuretic and as a stomach tonic. 

Aromatic profile
green blackcurrant, camphorated mint.

How to use
Add a drop of oil into the palms of the hands and inhale to activate the senses, or dilute a few drops into a carrier oil (olive, moringa, baobab) and massage into the lower back area for kidney support.
Points of interest
Agathosma  crenulata has similar characteristics to Agathosma  betulina but contains a higher pulegone content. Buchu oil has been approved in the USA as a food flavouring agent, at concentrations of up to 0.002% (15.4 ppm). The oil is also listed by the Council of Europe as a natural source of food flavouring (category N3) GR17